Saveurs du Sud (Flafors of the South), the Dauphiné Libéré Magazine did an article on Les Vans market (Ardèche - France). Here's an excerpt:
Located in southern Ardeche, between Cevennes and limestone plains, the land of Vans offers a varied patchwork of landscapes, soils and as many tasty products on the shelves of its market, held every Saturday morning since the sixteenth century! A friendly meeting and deemed that offer delicious local, fresh and seasonal. Notice to gourmets!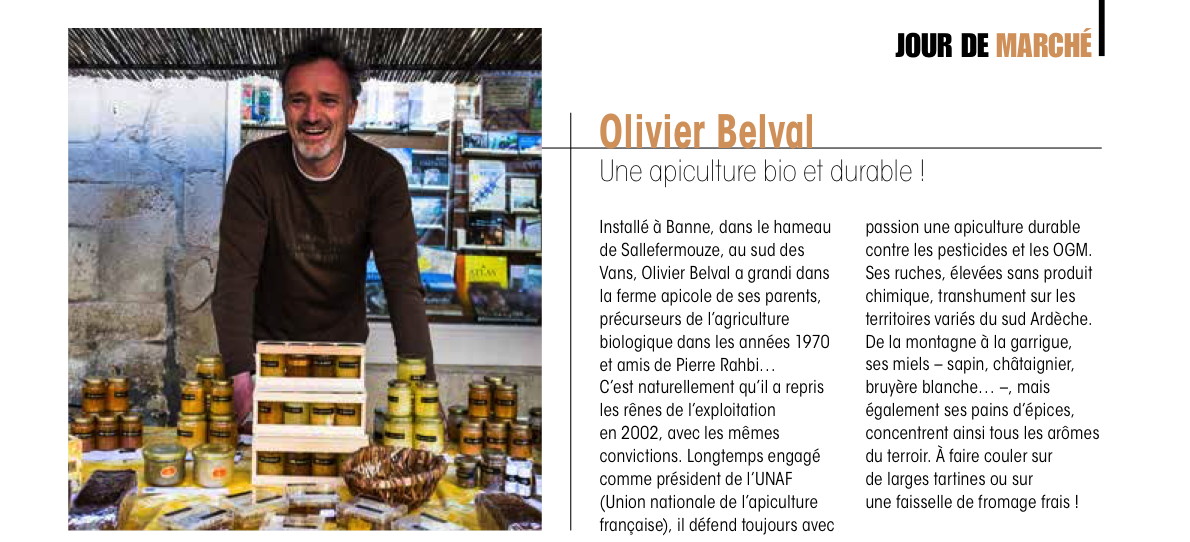 (texts and photos Séverine Baur.)
Living in Banne, in the hamlet of Sallefermouze, south of Les Vans (Ardeche - France), Olivier Belval grew up in the bee farm of his parents, precursors of organic farming in the 1970s and friends of Pierre Rahbi ... It is natural that it took over the operation in 2002 with the same convictions. Long hired as president of UNAF (National Union of French Apiculture), he still passionately defends sustainable beekeeping against pesticides and GMOs. His beehives, raised without chemical transhume on various territories of southern Ardèche. From the mountains to the garrigue, its honey - fir, chestnut, white heather ... - but also his gingerbread, and concentrate the flavors of the region. To run on large sandwiches or a fresh cheese curds!